Sunday, March 10, 2013
Goals from Alexis and Messi give Barça three important points ahead of Milan game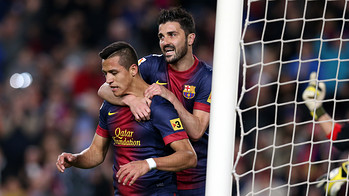 FC Barcelona got back to winning ways following the two painful defeats to Real Madrid, with a 2-0 victory over Deportivo – in a match where they started well, but then tailed off somewhat. A first half goal from Alexis and a second from Messi – who had come on as a sub – gave Barça the points against the bottom side in the league and a timely fillip ahead of Tuesday's match against Milan.
The points bring the league title closer to the Camp Nou, with 11 games still to play this season, and guarantees that Barça maintain the lead they hold over the two Madrid teams, who play on Sunday, for another week at least.
Saturday, March 9, 2013
Jordi Alba: "I'm very sure we'll go through to the next round"
The FC Barcelona left back is optimistic ahead of the Champions League match against AC Milan

Alba says the "players are calm, and they are eager to get a good result"
Alba at the MIC Tournament with Joan Verdú. PHOTO: MIC / Adrià Fontanet
The shows of confidence from FC Barcelona's first team players ahead of the decisive Champions League round of 16 return leg against AC Milan keep on popping up, and the message – regardless of who is delivering it – is identical. This Tuesday it was
Jordi Alba
who said:
"I'm very sure we'll go through to the next round."
The left back added to the statements made by
Xavi
,
Iniesta
and
Mascherano
that the Barça players are very eager to get a good result against the Italians.
"It's true that we're not doing well,"
said Alba,
"but we are calm, and we're very eager to play the match and win it by playing good football, just like we're accustomed to doing."
The Catalan then went on to say that
"it's a difficult tie ... we want to defeat Deportivo first so we can then focus on Milan."MIC Tournament
Alba made these statements during the presentation ceremony of the MIC Tournament. Alba left his mark on the competition when he played for FC Barcelona's Alevín A (U12) team, he was named the best player of the tournament.
Name: Jordi Alba
Position: Defender
Date of birth (age): 21/03/1989 (23)
Country: Spain
Squad number: 18
Club: Barcelona ( ESP)
Height: 170cm
Weight: 69kg
UEFA competition debut:
Club: UEFA Europa League (Group stage)
17/09/09: LOSC 1-1 Valencia
National team: UEFA European Under-19 Championship (Elite round)
22/05/08: Ukraine 1-3 Spain
Record in this competition
Campaigns (Appearances): 1 (7)
Goals: 1